All In One Heating and Air Conditioning
Quality Heating and Cooling Systems
It's not always hard to find great service. At locally owned and operated All in One Heating and Air Conditioning, our expert HVAC technicians have been helping homeowners and business owners in Elbert and Douglas counties for almost a decade.
We know that trust is an important factor in finding an HVAC systems company that you want to work with. That's why our company focuses on honest feedback, providing quality workmanship, and doing business with integrity. That attention to quality and honesty is also one of the reasons why we've earned a reputation as one of the State's premiere contractors.
What Do We Do?
At All in One Heating and Air Conditioning, we offer many services tailored to both commercial and residential customers. Our experience encompasses all phases of HVAC systems and miscellaneous plumbing, including boilers, water heaters, heat pumps, furnaces, geothermal units, supply and return air vents for basement finishes, air conditioners, duct work, new construction, sheet metal fabrication, cooling units, forced air units, roof top package units, humidifiers, walk-in coolers, evaporative cooling units (swamp cooler), refrigeration, and code corrections.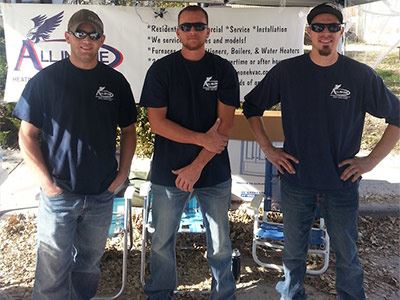 When you have a residential heating and cooling need, our expert techs can help. We service all makes and models of HVAC systems. We can also design a custom HVAC system to perfectly suit your home's needs. Whatever you can dream up, we can build it All In One. To make the design and installation process seamless, we maintain complete control throughout the entire process to ensure that your system is built to the highest possible standards. And our maintenance services are focused on keeping your system at factory specifications and maximum efficiencies.
Our commercial and industrial property division offers a service designed to manage every aspect of your HVAC design, installation, or repair - from start to finish. In fact, we have a 100% on-time completion record and are proud holders of the National Standard Master Mechanical licenses with exceptional standards for commercial complete HVAC systems.
Don't just choose a heating and cooling company at random — choose a company that's known for quality.
At All in One Heating and Air Conditioning, we guarantee that:
We've got you covered - 24 hours a day; 7 days a week; 365 days a year
Your completion will always be on schedule
The final product will exceed your expectations
Our process will be cost-effective, from beginning to end
We'll provide honesty, integrity, and great value
We specialize in energy-efficient construction
Give us a call today at 303-400-4328 and find out how we can help you with your next HVAC project.